Hire better talent with our fixed cost online graduate screening

solution - saving you time and money
Harness the power of technology to assess every single candidate before investing time and resources in the interview process. Our uncapped assessments provide consistent, objective and accurate data to help you find the perfect candidates faster.
Enhanced graduate recruitment with unlimited assessments at a fixed-cost
9x faster pipeline, automatic candidate feedback and better graduate talent
Improve speed, efficiency and save money by assessing every single graduate applicant first. Focus on the best of the best and support your recruitment process with consistent, objective and accurate data, including competency profile match scores, detailed reports and competency-based interviews.
With an effective graduate recruitment process, you will be able to:
Run your recruitment 9x faster, avoiding losing talent to competitors
Focus your HR on the best of the best
Retain top talent for 1.7 times longer
Identify graduates who can perform immediately, and become your leaders of tomorrow
Automatically give feedback to every graduate applicant
Fill in the form below to download our graduate screening product information sheet
AUTOMATE YOUR GRADUATE RECRUITMENT
The ROI of unlimited graduate recruitment
Graduate recruitment funnel
Objective information from the start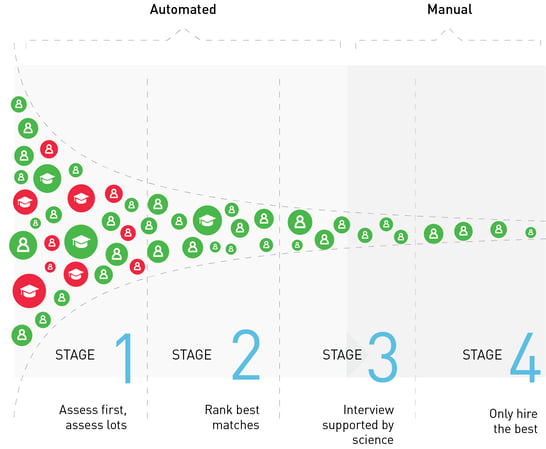 Download our infographic (The ROI of unlimited graduate recruitment) to find out how uncapped online candidate screening can help your business.